♦ Brisbane Fun Casino, The closest you will get to a real Casino for your function.
♥ Welcome to Funcas.com.au, a web portal for Brisbane Fun Casino.  Brisbane Fun Casino is a branch of Wild Diamonds Fun Casino, set up to look after the ever growing Brisbane Casino Party market.  At time of developing this site, there is not a high class Fun Casino Business operating from Brisbane, they are all Gold Coast or Sunshine Coast. This website has a simple name and is simple to use. We have created this site with plenty of information to allow you to make an informed decision on whether you want to use our services for your entertainment at your next event. All  images that appear on this website are from actual events that we have provided the entertainment at.  They appear with the permission of the various event organisers.
♣ For excitement, nothing beats the sights and sounds of a casino, Play Blackjack, Roulette, Money Wheel, Craps or Poker at your place, or the  venue of your choice. Bring the thrill of Vegas to your next private party, corporate event or Fundraiser.

♦ Brisbane Fun Casino's offer the best casino parties in South East Queensland. Brisbane Fun Casino services cover all areas from Southern Gold Coast, through Brisbane, the Sunshine Coast all the way up to Hervey bay. (other areas, please contact us for special arrangements.)
♠ Casino games offer a fascination that ensures participation and a successful event, and best of all, we bring the excitement to you as we are fully mobile.
♥ Your guests will be dazzled by your red carpet grand entrance, leading into your very own casino, with authentic equipment as seen in real casino's and to top it off, professionally trained real dealers with the skills and personality to run a fluent game whilst entertaining your guests.
♣ Our friendly and professional staff will provide a fun and enjoyable event that all your guests will talk about for a long time after.
♦The Brisbane Fun Casino's website is designed to act as an easy to use instructional site for the games that are on offer at a Brisbane Fun Casino Event.  
♥

Don't gamble on the success of your next event, use the Brisbane Fun Casino Party Experts!
When you're the organiser of an event for friends, family, staff or clients, two things matter most. First, you want to make sure your guests have an absolute blast that they'll be talking about for years to come. Second, you want to get the most value for money, with casino quality games, friendly dealers and no worries — all at a price that offers the best quality experience.  Brisbane Fun Casino Entertainment makes it happen!
♣ We have the best equipment and real dealers.
To provide the best service you have to have the best equipment.  Our Casino tables are custom designed by us to be stunning pieces of furniture that will blend in with any environment.  Our Roulette wheels are the full 32″ and our chips are heavy weight real style casino chips.  To complete the Las Vegas feel we have flashing lights to give not only the sounds, but also the glitz and glamour of Vegas.  Our competitors are now following in our lead, but in many cases, old tired tables with toy wheels and cheap plastic chips, dealt by inexperienced underpaid croupiers will pale in comparison to a Wild Diamonds Brisbane Fun Casino Event.
♦

Casino parties are all we do.
Brisbane Fun Casino always has one goal in mind: to ensure your Fun Casino function is everything it should be. We're not DJ's or event planners to which casino tables are an add-on extra.  We focus on Casino Games and are the South East Queensland Casino Party Experts!  Wherever you want to host your casino party, be it your home, backyard, office, Warehouse, Pub, Club, Function room, anywhere — we'll bring the casino to you!  and more importantly, we bring the "Fun" to your "Function".
♠ A Brisbane Fun Casino owner will be at your casino party.
We could grow bigger, but we'd prefer to stay better. So we avoid booking more than two fun casino events per night. And that means your casino party will get the first-rate equipment, dealers and the attention you deserve, with an owner on hand from set-up to pack-up. Support local business, not large interstate companies who's managers and owners you never meet or see, very impersonal.
♥

Our casino dealers are trained to ensure your guests have FUN.
A Fun Casino Party with us means laughter, cheering, enjoyment, learning all the casino games but without risking real money…and loving every minute of it!  What could be better?  Oh, by the way, not only do we teach you to play the games, we can also teach you and your guests how to deal the games if you want.  You won't ever get that in a real casino, in fact, you will never get to touch a real casino roulette wheel or Blackjack cards for security reasons.
♣ No casino party is too big or too small.
We can provide and staff the correct number of tables for any size casino party you want, we will NEVER try to sell you more tables than you need.  We will offer recommendations to you based on information you have supplied.  We will help you to accommodate your guests in comfort and allow all guests to get a chance to play. We can do a 1 table casino if that is all you need. (minimum 2 in Nov & Dec)
♦

Our prices make us your BEST VALUE.
As a family owned small local business, Brisbane Fun Casino is a company experienced at keeping our clients happy and our quality high — which means a Great Casino Party at a great price. Give us a call today to see just how affordable a professional Brisbane Fun Casino event can be!
Cheaper isn't always better, so if we are a little more, its because we give a lot more. Cost cutting will usually end in disaster and look cheap.  We will match or beat any competitor who supplies an equivalent level of service to what we provide.
♦

We are covered by 20 Million liability insurance.
Don't risk your casino party to some fly-by-night company with shady dealers and shoddy equipment! That includes insurance cover. Always check that a Casino Table Hire company has insurance and that it is enough to cover any unfortunate event. Brisbane Fun Casino is your trusted Queensland casino party provider, fully insured with $20,000,000 public liability insurance. So you can have peace of mind as our top-notch dealers and equipment make your casino party — and you — look great!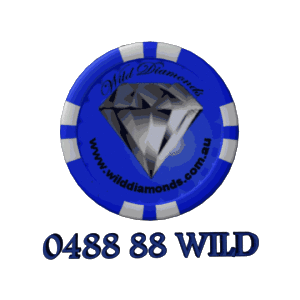 WE BRING THE PARTY TO YOU!

Call       0488 88 WILD (9453)
Email    lucy@wilddiamonds.com.au
You won't be disappointed!